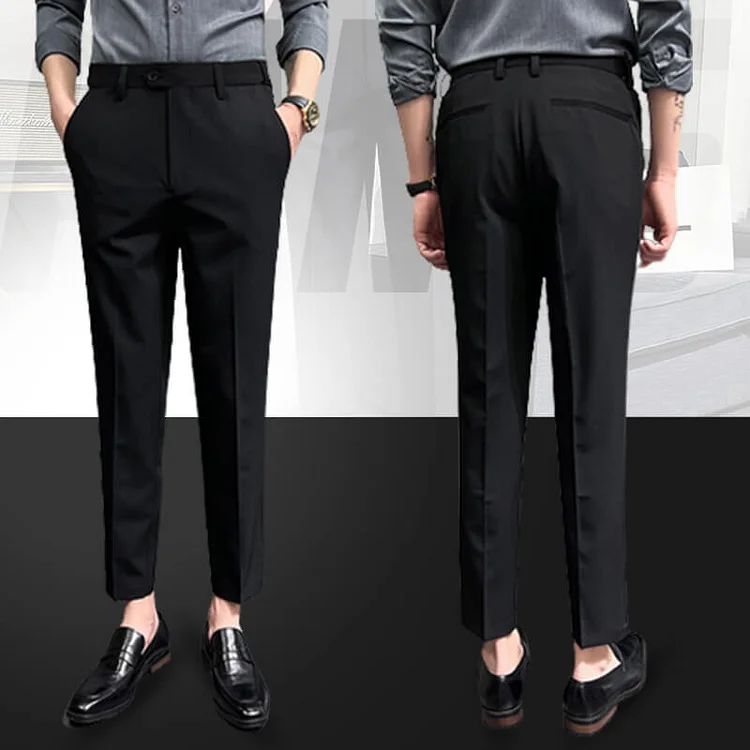 Stay comfortable and fashionable with our Men's Suit Slim Fit Long Pants. These pants are designed for both style and comfort, featuring a relaxed fit with a soft and breathable fabric blend, these pants are perfect for everyday wear.

These Men's Suit Slim Fit Long Pants for men are the perfect addition to your wardrobe. Made from high-quality materials, these pants are designed to be comfortable and durable. They feature an anti-wrinkle finish, which means you'll always look sharp and put-together, even after a long day of wear. With a classic, versatile design, these pants are suitable for a variety of occasions, from work to casual outings.

Lightweight and versatile suit pants.
Loose And Straight, Simple And Fashionable, It Is A Casual And Versatile Summer Wear.


Lengthening the Leg Line

Men's Suit Slim Fit Long Pants are trim leg shape, elongate the leg line, are visually taller, and outline the slender body shape.


Comfortable Fit
The relaxed fit with a tapered leg allows for a comfortable and easy range of motion. The elastic waist ensures a relaxed fit.

Soft and Breathable Fabric
Made from a blend of soft and breathable fabric, these pants are perfect for year-round wear. The lightweight and breathable material keeps you cool and comfortable all day long.

Stylish Design
The Men's Suit Slim Fit Long Pants offer a modern and fashionable look. The solid color design allows for easy pairing with any outfit.
Size run small,please size up.
Size(in)
27
28
29
30
31
32
33
34
35
36
waist
28.54
29.53
30.51
31.50
32.48
33.46
34.45
35
36.42
37.40
hipline
36.34
37.32
38.31
39.29
40.28
41.26
42.24
43.2
44.21
45.20
crosspiece
22.36
22.80
23.23
23.66
24.09
24.53
24.96
25.4
25.83
26.26
Knee circumference
15.57
15.89
16.20
16.52
16.83
17.15
17.46
17.78
18.09
18.41
bottom
11.42
11.61
11.81
12.01
12.20
12.40
12.60
12.8
12.99
13.19
length
34.25
34.65
35.04
35.43
35.83
35.83
35.83
36
36.22
36.61
Size run small,please size up.
Size(cm)
27
28
29
30
31
32
33
34
35
36
waist
72.5
75
77.5
80
82.5
85
87.5
90
92.5
95
hipline
92.3
94.8
97.3
99.8
102.3
104.8
107.3
109.8
112.3
114.8
crosspiece
56.8
57.9
59
60.1
61.2
62.3
63.4
64.5
65.6
66.7
knee circumference
39.55
40.35
41.15
41.95
42.75
43.55
44.35
45.15
45.95
46.75
bottom
29
29.5
30
30.5
31
31.5
32
32.5
33
33.5
length
87
88
89
90
91
91
91
92
92
93



Specification

Care Instructions: Machine washable
Package Includes:1 * Pants

Notes

Please refer to our size chart before ordering to ensure the best fit.

Due to the unique design of these pants, the actual length may vary slightly from the measurement provide